HellYEAHBeyonce
"I know crazy so well. I know crazy so damn well."
-BEYONCE
DISCLAIMER:
What I post or reblog are mostly from OTHER SOURCES (websites/search engines/other blogs/etc), UNLESS I state they are from me (pictures that I actually took myself or edited photos). I do not own anything. I am not paid nor sponsored for making this blog. AND NO, this is NOT Beyonce.
DISCLAIMER for GIVEAWAYS:
I am not paid nor sponsored for the items in giveaways. Items are/were personally purchased or own by me.
PERSONAL NOTE:
My life gets pretty busy now and then. So PLEASE bear with me loves if I slack at times. Thanks! And a huge hug for supporting this blog. Forever will be a BEYstan!
Blog was created on
Sept. 2009
Pages
Veritaserum theme by © MaxGarcia 2013.
powered by Tumblr.
source: aceshowbiz
****************************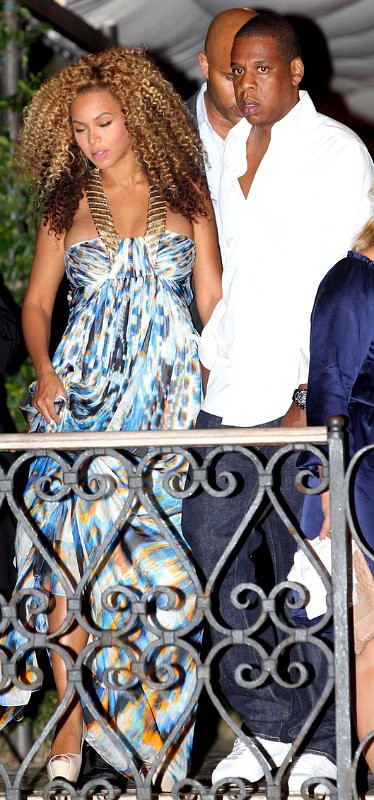 Beyonce Knowles has made her first public appearance with her hubby Jay-Z since herpregnancy announcement last month. The former member of Destiny's Child went out with her baby
 daddy for a dinner date to celebrate her 30th birthday. 

The mom-to-be looked radiant and glowing as she proudly showed off her baby bump in a flowing printed halter maxi gown. The R&B diva enjoyed the dinner date with the rap mogul, who opted a plain white shirt
 and denims, in the romantic city of Venice. 

Beyonce turned 30 on Sunday, September 4, and she was poured with birthday wishes by a number of fellow celebs. "Happy birthday," Wendy Williams told HipHollywood
. "You got everything that Kim Kardashian wishes she had."Melanie Fiona also said, "I wish you all the best. I wish you 30, 60, 90 more years of happiness and success." 

JoJo additionally gushed, "I must thank you for your incredible inspiration, your work ethic, and all the incredible music." The other stars who also congratulated the Queen Bey included Jordin Sparks, Keri Hilson, Kevin Hart, LeToya Luckett, Michael Ealy, Tyga and Miguel. Stevie Wonderdedicated his classic "Happy Birthday" to Beyonce as well. 
(Source: hellyeahbeyonce)